THERE'S SOMEHTING ABOUT AN OLD-FASHIONED SCRAPPY QUILT. Maybe it's a reflection of what I knew first. Maybe it's the fun of NOT knowing exactly what it's going to look like until it is all done. I worked on this one, just a little at a time and it was a happy little adventure. Not so large. No stress. Just fun. Well except for one part, maybe.....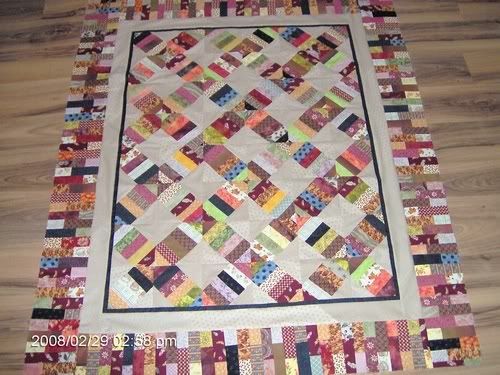 FOUNDATION PIECING...
Every time I see that topic, I think 'making underthings out of scraps.' Go ahead and chuckle. I know it really tells my age, too.
So, did Grandma Oe sew her strings on paper before she cut them into stars? I'm working on a sort of string pattern. I say 'sorta' because my strips are close to 2-inches, not down to 1/4-inch scraps like Grandma was paitient enough to save/use. Anyway, the internet instructions said to keep the pieces flat they could be sewn onto paper, i.e., telephone book pages cut to size. True, they came out very flat. But it took all day to get the paper off the back of those squares. (I needed my cheerful grandson John and his sisters for the task...they'd have loved it.). Now I can see paper piecing a wall hanging or even a square or two at a time. But shredding paper from 48 squares took some patience I must have been short on yesterday. The next time, I'm going to take the alternative route and use an old sheet that can just live there.
I did figure out what makes scrap piecing so addictive. You can't really tell what it's going to look like until it is all assembled ...and you can't quit working on it until you see what it's going to look like.
I don't think Grandma Oe had this problem. She was far more patient and sane than I am. Even so, we've had more snow -- perfect piecing weather, so I was making pieces while the snow flew. Well it's raining now and the sewing machine is put away.
If you want particulars on this piecing process go to:
http://www.quiltville.com/stringx.shtml
In the final stages, mine went together very smoothly....so maybe foundations make a difference. Which, of course, reminds me of one Grandpa Grover's favorite hymns...
How firm a foundation ye saints of the Lord
Is laid for your faith in His excellent word...
Nice reminder.