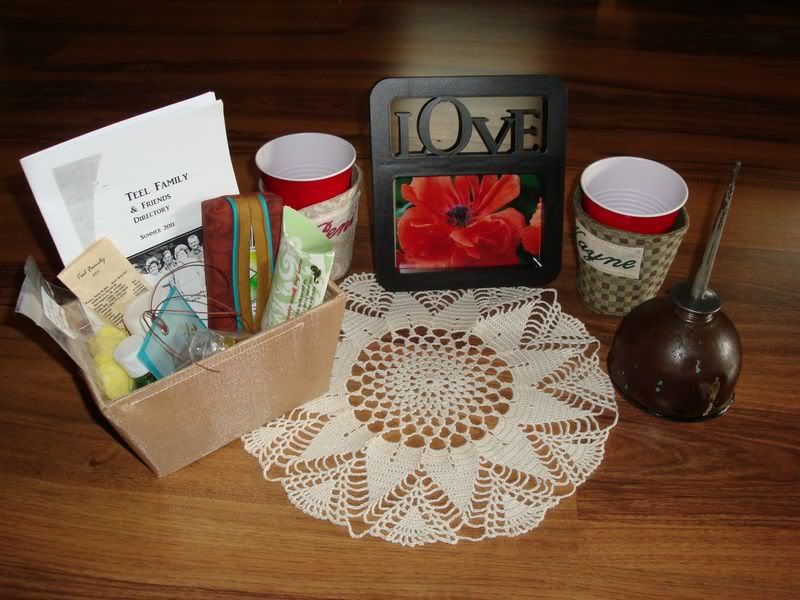 We always return from the Teel Family Reunion with a box plumb full of memories. Some naturally come to the forefront as I review the week just past:
• Two phone calls while on the way to Tennessee … first, Evabeth telling us she was baptized that morning and second, John calling to say he was baptized that afternoon. What a great start – rejoicing with the angels. Coincidentally, Caleb was born on June 26 – the day Eva and John were born again. No phone call can be more precious than those that bring news of birth and rebirth.
Our cup runs over … knowing that the Wayne Teel family now numbers 30 - 27 of them are now faithful to the Lord. And, as Grandfather says, we have every confidence that the 3 remaining will step up and take a place in the family of God when knowledge and age make them accountable. How blessed, how blessed!
• Evening songs of praise and worship … including John at his first time song leading with the rest of his brothers and cousins. The rafters rang out … and it was so interesting / encouraging to see the songs each chose and how their choices reflected their sincere hearts.
• Josiah, across the room, singing tenor with his Grandfather.
• Morning coffee and crochet hook…in the rocker … on the porch … watching the early morning mists traverse the Smokey Mountain landscape.
• Grandsons and granddaughters scampering off to the pool every chance they had … under supervision of older cousins, brothers or father … always modestly dressed.
• Talent upon talent as the "kids" performed lovely music, silly songs and playful skits of insightful humor. [Interested parties could check out Lisa's Facebook page for videos of several talent show acts.]
***Audrey and Hannah singing "Mama's Hands" … the song with its dedication to the Teel sisters, as I requested … they learned it well and performed it SO beautifully!
***All the grandsons trooping out in Sears shirts in an hilarious skit about the Sears repairman, a.k.a., Wayne Teel; a.k.a. Grandfather.
***Luke taking on "Awake" (a Josh Groban song) … with Audrey's guitar accompaniment … soloist and guitar carried out, again, SO beautifully!
***Caitlin … our queen of silly songs … leading an uproarious rendition of "Ghost Chickens in the Sky" … ably aided by Laurie Anne and Hannah. You had to be there!!! [It seems that practicing that act was the 'straw that broke the kneecap's back' and sent Laurie Anne to the hospital in an ambulance the evening before … she came back in a brace and so she sat/sang on a stool and joined the trio with gusto … such a trooper.]
***The 'youngers' of the clan, Trevor, Eva, Rebekah and Taylor, pitching in to present their songs and skits with the same vigor as the others.
• The traditional "Elders' Breakfast" … it has long been the custom of the second generation to host a breakfast (or evening event) for the Teel Siblings and their spouses. Always a special act of honor and love that provides keepsakes for our remembrance boxes. This one included antique oil cans for the guys, handmade doilies (crocheted by Hannah) and framed floral photos (done by Lisa) for the gals. Beccie arranged the festivities … after eating, the siblings were encouraged to tell tales on each other … some were even NEW … with a whole lot of "gun" stories in the mix. Still, I'm not inclined to suppose the brothers were truly hoodlums … not even in their wildest escapades … but who's to say.
• Splendid suppers prepared in turns (so each group arranged just one evening meal for the week). The Teels seem never short of food and this plan worked very smoothly. The menus: Subs with veggies and chips; Fried Chicken, Green Beans and Salad; Filet Mignon, Baked Potatoes (white and sweet), Salad and Rolls; (all served courtesy of family friend Clyde); Mexican Pile-Up; and Turkey with trimmings.
***Now really, how many folks are blessed with filet mignon for a clan of fifty plus relatives? Not any in my circle of acquaintances – but Clyde and Erline are always extremely generous.
***The grandsons taking their turn at clean up duty after evening meals – Caitlin was in charge of those arrangements and camping has taught her the value of using all resources available. It's good to feel useful, after all.
***It was fitting that our last meal was a Thanksgiving menu … we had so much to be thankful for as our time together wound down.
• Sweet Georgia Peaches – Jonathan Isaac, as well as the edible variety.
• Prayers – every one of them so thoughtful … especially Luke's prayer for Laurie Anne and her care givers (first off, before Part I of the Talent Show) in her absence. First things first … how heartwarming.
• And last but not least, the beautiful accommodations and surroundings of The Preserve in the Great Smokey Mountains … planned in true Laurie Moyer style. We brought home so many personal touches that reflect her talent and her love of family. A welcome basket was on each bedroom chest or table – they held Family Directories to help us keep in touch; Laurie's handmade bath salts and 'leafy petals' hand soap; hand sanitizer; solo cups; tissues packets in sewn holder; mints/candies … pretty as a picture. Laurie made tapestry cup holders with each individual's name on an embroidered tag – a stroke of genius, as we could always locate our own cup and conserve on supplies. She also laid in basic pantry supplies and brought cafeteria trays – that fit in the dishwasher. Planning for, handling the finances and shuffling activities for a group of 50+ folks of different ages, tastes and needs is no small task. What a job! How well done!
This is to be the last of the Teel Reunions involving Wayne's siblings/families and we certainly finished off the tradition in style. Aunt June said, "we started off with peanuts and we ended up with caviar" – a pretty apt description. The reunions began in 1967. It is sad to see something so good come to a close but such is inevitable with changing lives and moving time. A lot of remembrance boxes have been filled through the years … couldn't trade them (as Wayne's dad used to say) for a farm in Georgia.
So there we were – kith and kin from Alabama, Arizona, Colorado, Florida, Georgia, Indiana, Tennessee, Texas, Virginia and West Virginia (all but two of us a good long way from Queen Shoals, West Virginia where the Teel siblings were born). We continue to thank God for safe journeys (in both directions) for all of our dear family and the sweet memories we made together. How Blessed! How Blessed!
As I've said elsewhere...this is about as near to heaven as I ever expect to feel/be on this earth ...